Studying abroad in France was the best experience I have ever had, and it changed the way I live, think, and go about daily life.
For example, I try much harder to not waste water because my host mom told me that I use too much water while brushing my teeth! This along with bigger, more formative examples speak to how I developed as a person and student.
I am a strong advocate for studying abroad (be it in France or anywhere else in the world), but living in France changed so much about who I am within four fulfilling months. I hope that I inspire you to study abroad in France with this list below.
Learn to speak French (or improve your skills)

Learning to speak a new language is great for your mind and soul. There is no better time to learn a new language than the present and no better place to learn French than in France. Immersion is incredible for the brain when learning something new, so whether you have been studying French for years or you are a beginner, placing yourself in that environment where it is all you see, hear and breathe will help you learn and make it stick!
Travel while traveling

Traveling while in Europe couldn't be easier. You don't have to worry about currency exchange, trains are well maintained and go everywhere. Planes are always fast and cheap, but Europe is not too big and train rides are better for the environment. No matter how you travel in Europe, it is important to take advantage of that opportunity while you are there. The continent is so culturally and historically rich that a trip abroad means a trip across borders!
You might change something about yourself

Once you have studied abroad in France, you may come back a different person. Your morals may have changed, your political ideas, or your hair – as I can attest.  I came back with bangs and can only ever fantasize about my French lifestyle and their way of living. On a more serious note, a change of pace in life is good for any student. France is a real-world classroom that gives so much to those who are curious. If ever you have the chance to study abroad, let that experience take you and create a new and improved person. Let yourself experience other cultures and enjoy it!
Become your own sommelier

Where better to learn about the art of wine than its mother country, France? When learning about wine, you distinguish wines by Old or New World. France is an Old World wine country and has some of the most amazing vineyards. You can visit the château where wine is made and learn so much about one single vineyard. The best experience above all is La Cité du Vin in Bordeaux. At this eight-story museum, you learn about the entire history of wine and enjoy a tasting at the top of the building with a beautiful view of Bordeaux! This is an incredible start to becoming your own sommelier. 
Foster a love for incredible cheeses

Cheese, glorious cheese. France has the best cheese a country can offer, and she knows it. Cheeses can be strong and not for everyone, but it is so rich (in taste and creation). Before I studied abroad in France, I could not even look at bleu cheese, but now I crave the Roquefort bleu cheese at least once a week. France's  ingredients and processes for food are so natural, it will make you question why cheese should ever be put in a can. If you really want to consider yourself a "foodie," explore the French countryside and eat cheese (since you also have now become your own sommelier).
Host families change your life

The idea of living with a host family may seem like  the scariest thing ever, but au contraire, my friend. These families sign up just so they can host you. They are aware you might not speak French fluently, and that is okay because you are there to learn. They are there for you the whole time and always find ways to help you. My host dad took me to school for the first week, so I could adjust to the whole experience before making me figure out the public transit system (which was incredibly easy). Every day I would come home and there was a new book from my host mom on my nightstand, and she and I would talk about French literature. Their three daughters were welcoming and later helped me find internships in Paris. There are no limits to what a French host family can do for you, so go for it!
Vive La France!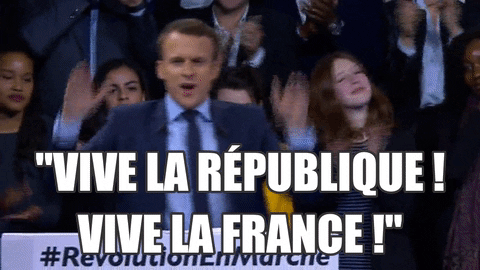 France is the best, and once you go, you will never want to leave. It is a beautiful country full of people who enjoy life. Their healthcare system is inclusive, the gilets jaunes and other protestors always have the right to voice their opinions, and retirement in France is the best out there. Experiencing their way of life and culture before making the dream retirement come to fruition is extremely important because you will better understand how the country functions. The French fought hard for their current Republic, and they are proud of it. Maybe you should go see what all the fuss is about while you have the opportunity and resources available. 
by Jamie Jacobs