Whoever said boy bands were a thing of the past, must not have heard of GOT7.
This multinational group debuted in South Korea in 2014 with seven members known as JB, Mark, Jackson, Jinyoung, Young Jae, BamBam and Yugyeom.
Within five years of debuting, the group has released three studio albums, 11 EPs, 20 singles, and two box sets that all have accumulated to landing them on some of America's top music charts like Billboard's Top 100 chart.
Now with 22 days from the 2019 Billboard Music Awards where the group is nominated for Top Social Artist, I want to give you seven reasons as to why life is better when you've GOT7.
Amazing vocals
When I first found out about GOT7, the thing that caught my eye was their looks.
However, the beautiful melodies that grabbed ahold of my ears is what solidified me becoming a stan of the group.
The first time I ever witnessed GOT7's vocal abilities is when I watched their live van performance of  "You Are," where JB and Youngjae stole my heart with how effortless it was for them to hit those glorious high notes during the chorus of the song.
From that moment, I knew I was in for the ride of my life with this group.
Incredible synchronization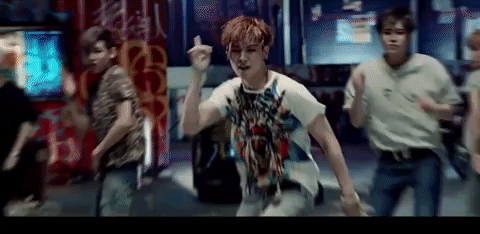 Everyone knows that the good things in life come in pairs. Burgers & fries. Peanut butter & jelly. Tom & Jerry. And when it comes to GOT7, that's no different.
Along with their amazing vocals, the ability that GOT7 manages to be synchronized when they are performing still stuns me to this day.
With five years of dancing together, they have calculated and perfected their synchronization to the point where they move as one
The hours and hours of practice they put in days, weeks, even months before a performance does not go unnoticed each and every time they take the stage.
Easy on the eyes
As I said in the beginning, the first thing that caught my eye about this group was how handsome all of them are.
Seeing one handsome man on your Twitter or Instagram feed, intrigues you  to learn more. But seven of them all in one multi-talented group?! Now, that's a conundrum.
With skin clear as the blue sky on a summer day and eyes that sparkle like the stars in the night sky, the visuals GOT7 members possess is something to behold.
While their vocals and synchronicity are the chocolate and vanilla ice cream scoops, their handsome faces are the beautiful ripe maraschino  cherry on top of a delectable sundae.
aegyo
Though those faces are ridiculously handsome, do not  let them fool you as they can get pretty cute.
Despite some of the members *cough cough* JB *cough* not wanting to be described as cute, all seven are considered pros at doing aegyo.
For those who don't know what aegyo is, it's affection often expressed through a cute baby voice, facial expression and gesture.
Whether it be stretching the final vowel of a word, giving a finger heart, or poking at their dimples, GOT7's displays of aegyo tugs at the heart strings of any self-respecting fangirl or fanboy.
A bunch of comedians
Now besides their heavenly vocals, killer dance moves, stunning visuals and tooth aching cuteness, GOT7 members are top notch, high quality comedians (kinda).
Whether it be mocking each other on stage, teasing each other about some of the things they do and say on VLive, or exaggerating stories from their days as trainees in interviews, they never miss a moment to laugh and smile at the expense of the others.
There are a plethora of YouTube compilations like this one that highlight their most funniest moments and I can not stop the tears from rolling down my face while I hysterically laugh at their antics.
While I would not  recommend them quitting their day jobs of being international superstars, their witty humor and constant displays of goofiness on- and off- stage can be considered another one of their many talents.
Brotherly bond
Throughout the last five years of the greatest highs and the devastating lows a group can experience, GOT7 has created a bond that goes beyond that of just friends; they are brothers.
While JB, Jinyoung, Youngjae, and Yugyeom came from different cities in Korea, Mark, Jackson, and BamBam came from different America, China, and Thailand. Though they came together not knowing each other, their shared love for music allowed them to create a shared love for each other.
In the interview below, they chat about their lives together, how they still see each other quite often despite not living together, and joke that some members are fairly good at twerking.
Through reading this and diving deeper into the group by watching the interview and seeing how they interact with each other, it becomes easy to see the love these seven young men have for each other.
Love for their aghases
The love that they have for each other is almost just as big as the love they share for their fans.
With over 6.2 million aghases, which means baby birds in Korean and is the name of the fans of GOT7, the boys never miss a chance to remind them how much they love them.
Speaking from firsthand experience, GOT7 always has been fans of their own fans.
They always encourage fans to follow their dreams and reassure them that despite whatever rough times they go through, it will all be OK because they have each other to get through it.
At the end of any concert, fansign, interview or livestream, GOT7 never forget to restate their promise to their millions of baby birds that they will "fly high together, forever."
Learn more about GOT7.
by Alaysha Maple